Thousands told to flee Australia bushfire
http://www.bbc.co.uk/news/world-australia-46366964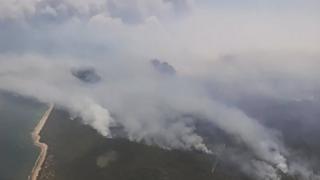 Thousands of Australians have been told to evacuate their homes as a powerful bushfire threatens properties in Queensland.
It follows the raising of the state's fire danger warning to "catastrophic" – the highest level – for the first time.
More than 130 bushfires are burning across Queensland, fuelled by strong winds, a heatwave and dry vegetation.
The worst threat is for a fast-moving bushfire near the town of Gracemere, said Premier Annastacia Palaszczuk.
"We have never, ever in this state been in this situation before," she told reporters late on Wednesday.
"We have not had a catastrophic level. This is uncharted waters."
Several properties have been destroyed since the fires began burning on the weekend. More than 30 schools have been closed.
Authorities ordered people in Gracemere and surrounding areas to evacuate immediately to the nearby city of Rockhampton.
Unlike in Australia's drier south, intense fire conditions are unusual in central Queensland in late November because it is the wet season.
Bushfires also damaged neighbouring New South Wales last week. Both states are currently in the grip of drought.
Read more: