Rise in net migration from outside EU
http://www.bbc.co.uk/news/uk-47400679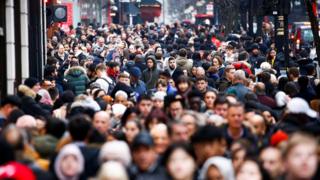 Net migration to the UK from countries outside the European Union has hit its highest level for 15 years, the Office for National Statistics says.
Figures show 261,000 more non-EU citizens came to the UK than left in the year ending September 2018 – the highest since 2004.
In contrast, net migration from EU countries has continued to fall to a level last seen in 2009.
The figures are the last set before the UK is due to leave the EU next month.
And separate figures released by the Home Office show the number of EU nationals applying for British citizenship hit an all-time high last year, rising by 23% to about 48,000.
'Complex decision'
In December, the prime minister said the government was sticking to its longstanding ambition to bring net migration down to the "tens of thousands".
In the year to September, a total of 627,000 people moved to the UK and 345,000 people left the UK – a net migration of 283,000, ONS figures show.
Jay Lindop, director of the Centre for International Migration at the ONS, said: "Decisions to migrate are complex and a person's decision to move to or from the UK will always be influenced by a range of factors, including work, study and family reasons.
"Different patterns for EU and non-EU migration have emerged since mid-2016, when the EU referendum vote took place."
Overall, net migration, immigration and emigration figures have remained broadly stable since the end of 2016, the ONS said.
The ONS report also showed:
More citizens from Central and Eastern European countries known as the EU8 – which includes Poland, Slovakia and Lithuania – are leaving the UK than arriving. This pattern differs from all other EU countries
The number of people coming to the UK for work has fallen to its lowest level since 2014 – this follows a fall in the number of EU citizens arriving to work
More people are coming to the UK to study, with non-EU student immigration at its highest level since 2011
Madeleine Sumption, from the Migration Observatory at the University of Oxford, said the data showed Britain was not as attractive to EU migrants as it was a couple of years ago.
"That may be because of Brexit-related political uncertainty, the falling value of the pound making UK wages less attractive, or simply the fact that job opportunities have improved in other EU countries," she said.
She added that EU net migration happened to be unusually high in the run-up to the referendum, so at least some of the decline would probably have happened even without Brexit.
Marley Morris, of the Institute for Public Policy Research, a centre-left think tank, said the "marked fall" in EU net migration meant the government needed to "act now to reassure EU citizens and contain the economic damage".
"It must ramp up its communications campaign on settled status, send a strong message to employers that rights must be protected, and clarify its proposals for a no deal scenario."