PM plans bold offer to get support for deal
http://www.bbc.co.uk/news/uk-politics-48323522
Theresa May has said a "new and improved" Brexit deal will be put to MPs when they vote on the EU Withdrawal Agreement Bill in early June.
Writing in the Sunday Times, Mrs May said the bill will be a "bold offer".
Extra protections for workers are expected to be among the proposals, with Mrs May trying to win over the support of some Labour MPs in a final attempt to get her Brexit plan passed.
This comes after the government's talks with Labour over Brexit broke down.
Mrs May announced this week that MPs will vote on the bill – which would bring the withdrawal agreement into UK law – in the week beginning 3 June. If the bill is not passed, the default position is that the UK will leave the EU on 31 October without a deal.
Labour has said it will vote against the bill while many Conservative MPs also remain opposed, meaning the legislation could fail to clear its first parliamentary hurdle.
But in her Sunday Times piece, Mrs May said she will "not be simply asking MPs to think again" on the same deal that they have repeatedly rejected – but on "an improved packaged of measures that I believe can win new support".
The PM said she wanted MPs to consider the new deal "with fresh pairs of eyes – and to give it their support".

Check the small print
By Jonathan Blake, political correspondent
With any sales pitch that sounds like it's too good to be true, it's important to check the small print.
And so with Theresa May's promise of a "new and improved" Brexit deal – MPs will be wondering what exactly has changed.
A promise of a further referendum would win plenty of support from Labour but Downing Street's ruled that out.
Changes to the Withdrawal Agreement, including the Northern Ireland backstop, would sway the DUP and many of her own MPs, but the EU won't agree to that.
Additions on workers' rights and environmental protections might be enough to sway a few Labour votes.
And there may be – after a series of votes in Parliament – some movement on the UK's future customs relationship with the EU, but that is as likely to turn off Tory MPs as it is to woo the opposition.
Not for the first time there appear to be no good options for Theresa May.
But a "bold offer" is quite a promise to make, and if her deal has a hope of passing, she will somehow have to live up to it.
Liberal Democrat leader Sir Vince Cable said his party would be prepared to support the bill if the government agreed to give the public the final say on the terms of exit in a referendum.
He told the BBC's Andrew Marr his party had discussed the "practicalities" of holding another public vote and it was possible before the 31 October deadline.
"We need a proper referendum that will come to a resolution on the issue, with remain on the ballot paper."
'National emergency'
But Change UK spokesman Chuka Umunna said there was "simply not enough time" to hold a referendum before 31 October.
Given it was "almost certain" the Withdrawal Agreement Bill would be defeated, he said the only option was for the the UK to stop Brexit by revoking Article 50.
"We are facing a national emergency," he told Andrew Marr.
"What would be undemocratic would be imposing a no-deal Brexit on the British people that there is not a mandate for."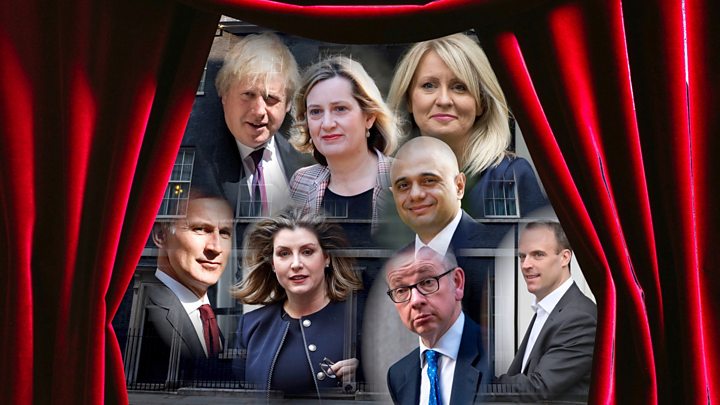 A cabinet meeting on Tuesday is to consider plans for a series of "indicative votes" by MPs to establish which proposals could command a majority.
Brexit had been due to take place on 29 March, but the UK was given an extension until 31 October after MPs three times voted down the withdrawal agreement Mrs May had negotiated with the EU.
This prompted negotiations between the Conservatives and Labour aimed at breaking the Brexit impasse, but they collapsed on Friday without an agreement.
The prime minister has also promised to set a timetable for her departure from Downing Street following the vote on her deal.
Before the talks with Labour, the prime minister – whose Conservative Party does not have a majority in the House of Commons – failed to get her deal through three times, by margins of 230, 149 and 58 votes.
The DUP, which supports her government on certain issues, opposes Mrs May's agreement with the EU over its implications for Northern Ireland.
Shadow Brexit secretary Sir Keir Starmer said the government should include a "confirmatory" public vote in Brexit legislation to "break the impasse".
Labour's preferred plan is for changes to the government's Brexit deal or an election, but if neither of those are possible, it will support the option of giving the public a say on the deal agreed by Parliament.
Meanwhile, Tory grandee Michael Heseltine has said he will vote for his local Liberal Democrat candidate in the upcoming European parliamentary elections – in protest at the government's stance on Brexit.
Lord Heseltine, also writing in The Sunday Times, called on the Tories to back another referendum on Britain's EU membership in order to avoid what he called "the biggest act of economic self-harm ever undertaken by a democratic government."