May to try to persuade MPs for third time
http://www.bbc.co.uk/news/uk-politics-47579033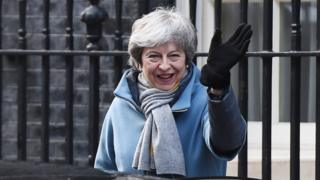 Prime Minister Theresa May will try to persuade MPs for a third time to back her Brexit deal over the coming days.
The Commons will vote on her withdrawal agreement by 20 March, after MPs agreed to ask the EU to delay Brexit beyond the current 29 March departure date.
Tory MPs and the DUP are seeking further legal assurances over the deal.
Cabinet Minister David Lidington said there was "real impatience" in Europe and unless MPs agreed a deal, the EU could seek a delay of more than a year.
European Council President Donald Tusk has said EU leaders could be open to a long extension "if the UK finds it necessary to rethink its Brexit strategy".
What happened this week?
A series of Brexit votes have taken place in the Commons:
However, as things stand, the law has not been changed, as Wednesday and Thursday's votes were not legally binding.
That means the UK is still set to leave on 29 March – with or without a deal.
Will there be a delay?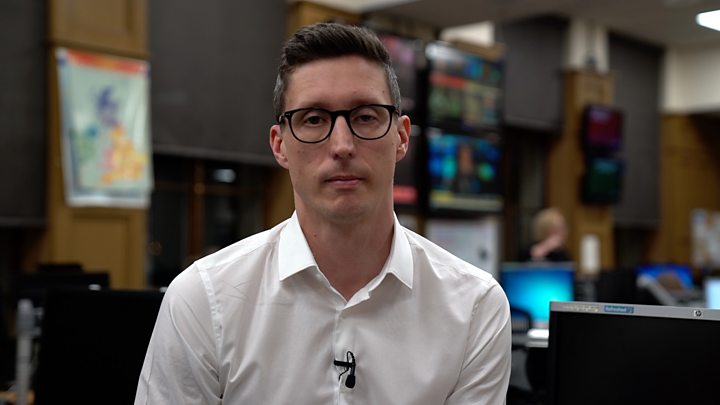 While legally, there does not have to be a delay, politically it might be hard for Mrs May to avoid.
Thursday's motion saw Parliament agree to two options for a delay:
If MPs support Mrs May's deal next week – before a summit of EU leaders in Brussels on 21 March – then she will ask the EU for an extension of no later than 30 June
But if they don't support her deal for a third time, there could be a much longer delay and the UK may have to take part in elections for the European Parliament in May
Any delay will require the agreement of all other 27 EU members and talks about possible conditions could take place before the summit.
What has the government said?
Mr Lidington, who is regarded as Mrs May's de facto deputy, told the BBC that, although the risk of the UK leaving without a deal had "diminished" as a result of this week's votes, it could still happen unless an alternative solution was found.
He urged MPs to "reflect" over the weekend on the deal on the table, which he said had the "great virtue" of having the backing of all 27 other EU governments and, most likely, the European Parliament too.
"I think there is some real impatience among the British public, and frankly among other EU governments, with this inability to agree in Westminster on the way forward," he told BBC Radio 4's Today programme.
"The alternative, spelt out very clearly and accepted by the House of Commons, is that you don't just have a short technical extension to our membership. You almost certainly need a significantly longer one."
---
March Brexit almost certainly out of reach
It is still technically possible that we could leave the EU at the end of this month – the law has not changed.
But politically it is now almost entirely out of reach.
The prime minister is accepting she will miss one of the biggest targets she has ever set herself.
Thursday's vote was awkward for another reason, as it again displays the Conservatives' fundamental divisions.
This is more than a quarrel among friends, but a party that is split down the middle on one of the most vital questions this administration has posed, with cabinet ministers, as well as backbench Brexiteers, lining up to disagree with Theresa May.
---
Will MPs change their minds about the deal?
This remains unclear.
Mrs May brought back additions to her deal after late night talks in Strasbourg on Monday to try and allay fears about the Irish backstop – the insurance policy to stop a hard border returning to the island of Ireland – as this had been the main sticking point when her deal was voted down the first time.
Tuesday's vote showed that some critics had been won over, but while the PM was not defeated by such an historic margin as she was in January – 230 votes – she still lost by a significant margin.
Now it is a case of persuading Brexiteer backbenchers in the European Research Group and the Democratic Unionist Party, as well as trying to win over members of the opposition.
Some MPs have suggested looking into whether the backstop could be solved by using Article 62 of the Vienna Convention – which would allow the UK to withdraw from any treaty if there had been "a fundamental change of circumstances… which was not foreseen by the parties".
Leader of the Commons Andrea Leadsom said the government's Attorney General, Geoffrey Cox, had considered the matter and would comment further if he thought it was necessary.
Where do the parties stand?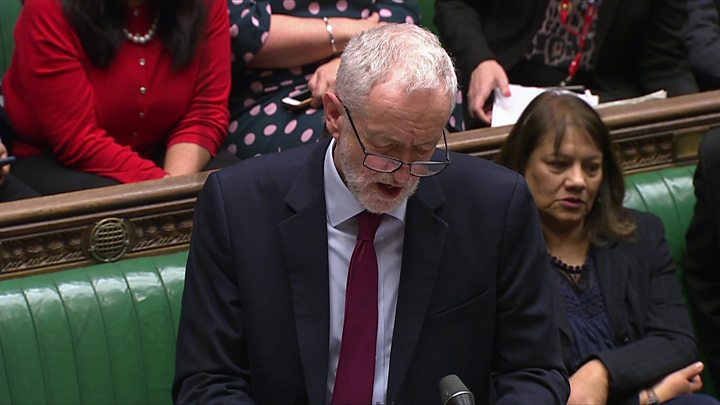 The past week's votes have exposed divisions in the main parties.
More than half of Tory MPs – including seven cabinet ministers – voted against Mrs May's motion to put back the date when Britain leaves the EU.
Downing Street said this was a "natural consequence" of Mrs May's decision to offer a free vote on an issue where there are "strong views on all sides of the debate".
And in the Labour Party, 41 MPs rebelled against party orders on Thursday to abstain in a vote on a possible new referendum – with 24 supporting a referendum and 17 voting to oppose one.
Five of those MPs have resigned from their roles in the party as a result.
Shadow trade secretary Barry Gardiner said Thursday's vote was about securing an extension to negotiations and was not the right time to vote for another referendum.
"If it's the only way we can stop a no deal or a bad deal, then that is when it comes into play," he told BBC Radio 4's Today programme.
Gina Miller, who took the government to court to force them to consult Parliament on the Brexit process, also told the programme she did not believe Thursday was the right time to push for another referendum – but insisted the option was not off the table, despite being heavily defeated by MPs.
"You have to try and exhaust all the other options first and if parliament can't resolve it, it's at that point that it goes back to the people," she said.