Main parties hit by Brexit backlash in polls
http://www.bbc.co.uk/news/uk-politics-48142181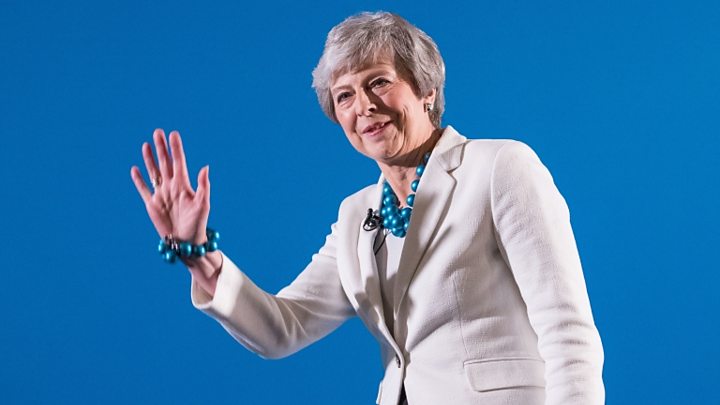 The Conservatives and Labour have faced a backlash at the ballot box over the Brexit deadlock, with smaller parties and independents winning seats.
In England so far, the Tories have lost more than 850 seats and 30 councils overall, while the Liberal Democrats have gained more than 500 seats.
Labour has lost more than 90 seats.
The BBC projects that, if results it analysed were replicated across Britain, both the Conservatives and Labour would get 28% of the total vote.
The analysis, based on 650 wards in which the BBC has collected detailed voting figures, implies the Lib Dems would get 19% and other parties and independents 25%.
Council results continue to be declared in England and Northern Ireland. More than 180 of the 248 English councils holding elections had announced their results by 15:30 BST, with counting under way elsewhere.
The Green Party has added more than 160 seats so far, but UKIP has lost ground, down more than 80 councillors on this stage than in 2015. Meanwhile, the number of independent councillors is up by more than 300.
The first Northern Irish results are also starting to be announced. No local elections are taking place in Scotland and Wales.
MPs have yet to agree on a deal for leaving the European Union, and as a result, the deadline of Brexit has been pushed back from 29 March to 31 October.
While local elections give voters the chance to choose the decision-makers who affect their communities, the national issue loomed large on the doorstep.
Key developments so far:
The Conservatives have lost control of councils including Peterborough, Basildon and St Albans. Labour has lost control of Hartlepool, Bolsover and Wirral
Labour has also lost its mayoral post in Middlesbrough to an independent
The Conservatives have won Walsall and North East Lincolnshire – both of which had no party with overall control before
The Liberal Democrats have gained councils including Winchester, North Norfolk, Cotswold, Bath and North East Somerset and Vale of White Horse
Labour has won Trafford – a former Conservative stronghold
Where independent candidates have been standing, they have won on average 25% of the vote – and independents have taken control of two councils – Ashfield and North Kesteven
The Green Party has gained more than 80 councillors so far, including seven in Mid Suffolk and six in Folkestone & Hythe.
Turnout is averaging just one or two points below the last two local elections, reversing predictions of a major drop-off in voters
Theresa May, appearing at the Welsh Conservative conference, said voters had sent the "simple message" that her party and Labour had to "get on" with delivering Brexit.
"These were always going to be difficult elections for us," she added, "and there were some challenging results for us last night, but it was a bad night for Labour too."
A heckler shouted at the prime minister: "Why don't you resign?" He was then ushered out of the conference hall in Llangollen, North Wales, as the audience chanted: "Out, out, out."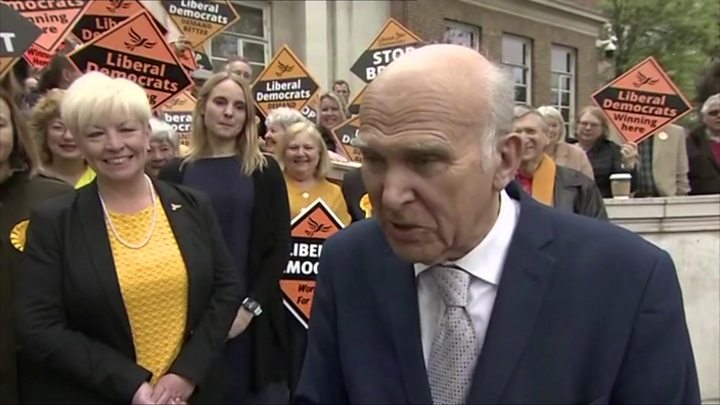 Speaking in Greater Manchester, Labour leader Jeremy Corbyn said he "wanted to do better" and conceded voters who disagreed with its backing for Brexit had deserted the party.
But Lib Dem leader Sir Vince Cable, in Chelmsford Essex, where his party took control of the council, said it had been a "brilliant" result and that "every vote for the Liberal Democrats is a vote for stopping Brexit".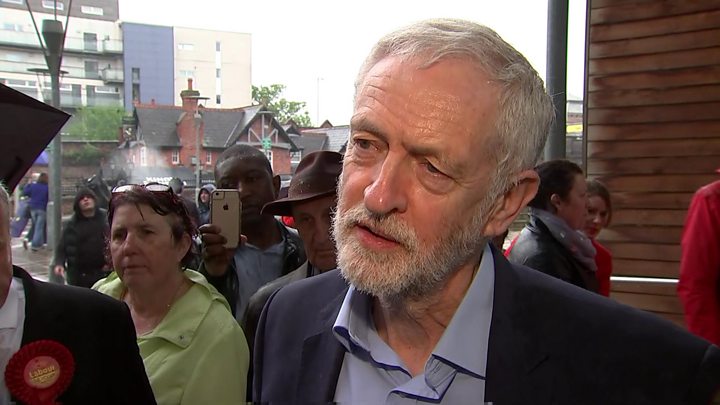 Polling expert Prof Sir John Curtice said the days of the Conservatives and Labour dominating the electoral landscape, as happened in the 2017 election, when they won 80% of the vote between them, "may be over".
He said it was only the second time in history that the two main parties' projected national share of the vote had fallen below 30%.
The only other occasion was in 2013, when UKIP performed strongly in local elections.
Prof Curtice said the Conservatives and Labour had both lost ground heavily since last year's local elections when both were estimated to be on 35%.
While the Lib Dem figure was the highest since 2010, when they agreed to join the coalition government with the Conservatives, he said it was still well below the 24% the party regularly achieved in the 1990s and 2000s.
Green Party co-leader Sian Berry said she was confident her party would end the day with a "record number of councillors on a record number of councils".
She told BBC Breakfast the Greens were not simply benefiting from a protest vote over Brexit and their gains reflected "huge new concerns" about climate change as well as the strength of their local campaigning on a range of issues.
UKIP is down by more than 80 seats on its 2015 performance but Lawrence Webb, a former London mayoral candidate who is standing in this month's European elections, said the party's "fortunes were on the up" after its recent troubles.
Polls took place for 248 English councils, six mayors and all 11 councils in Northern Ireland.
This is the biggest set of local elections in England's four-year electoral cycle, with more than 8,400 seats being contested.
A further 462 seats are up for grabs in Northern Ireland.
It's not over – it's far, far from over.
Many hundreds of seats are yet to declare. Many individual political stories yet to be told. So be very aware – the final shape of wins and losses for the government and the main opposition is unclear.
But at this stage of the morning, there is one message to both of the main parties at Westminster from this enormous set of elections – it's not us, it's both of you.
Council leaders from both parties are saying openly that voters can't trust them any more because of how they have dealt with Brexit. This is a verdict on the competence of Westminster's biggest parties – on the mess of handling Brexit.
Of the 248 elections in England, 168 have been district councils which are in charge of setting and collecting council tax, bin collections, local planning and council housing.
There were also elections taking place for 47 unitary authorities and 33 metropolitan boroughs which look after education, public transport, policing and fire services, as well as all the services of district councils.
In Northern Ireland, councils are responsible for services including local planning and licensing, waste collection and enforcing safety regulations to do with food, workplaces and the environment.
Either search using your postcode or council name or click around the map to show local results.