Joe Bidens rival denies veiled dig at his age
http://www.bbc.co.uk/news/world-us-canada-49691873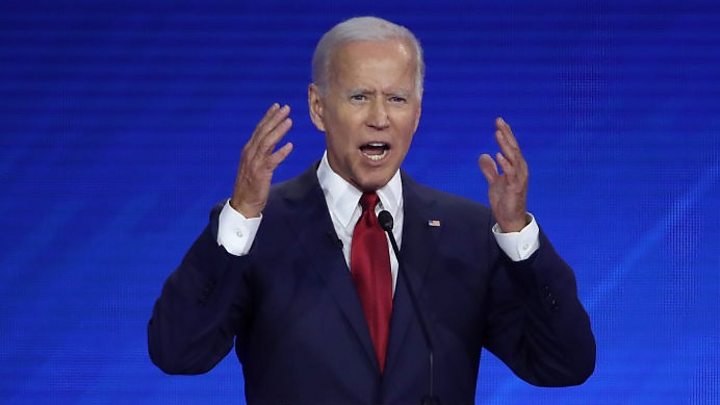 The frontrunner for the Democratic presidential nomination, Joe Biden, has batted off questions about his age.
The former vice-president, 76, said he would release his medical records before votes were cast and even joked about wrestling a reporter.
During Thursday's debate he was accused by a rival of forgetting what he had just said in what was seen as a swipe against his age.
If elected Mr Biden would be the oldest president in US history.
Before announcing his candidacy he said his age would be a "legitimate issue" in the presidential race.
Asked by a reporter on Friday about such concerns, Mr Biden replied: "What the hell concerns? You wanna wrestle?"
He went on to say he would release his medical records after his next physical and "before there's a first vote", which is due in February next year.
What happened during the Democrat's debate?
The opening exchanges of the debate saw the candidates clash on healthcare. At one point, former Housing Secretary Julián Castro, 44, suggested that Mr Biden had contradicted himself on his own policies.
"Are you forgetting what you said two minutes ago?" Mr Castro said.
Fact-checking site PolitiFact said it was Mr Castro who had got it wrong and he has faced criticism among Democrats for what was seen as uncivil attack on a fellow party member. Another candidate, Minnesota Senator Amy Klobuchar, 59, told CNN that the barb was "not cool".
Mr Castro has denied taking a shot at Mr Biden's age, telling the BBC: "Whether its Vice-President Biden or somebody else, if somebody on that debate stage says one thing and then two minutes later they deny that they said it, I'm going call them on it."
Few candidates have been willing to directly broach the age of Mr Biden, who has made repeated gaffes and flubs on the campaign trail.
During Thursday's ABC News debate, Mr Biden gave what many viewed to be a rambling answer to a question about race in America, suggesting parents use a "record player" to educate their children.
He currently holds a healthy lead in polls, with Massachusetts Senator Elizabeth Warren, 70, and Vermont Senator Bernie Sanders, 78, his closest rivals.
Another challenger, Cory Booker, 50, told CNN after the debate: "We are at a tough point right now, because there's a lot of people concerned about Joe Biden's ability to carry the ball all the way across the end line without fumbling."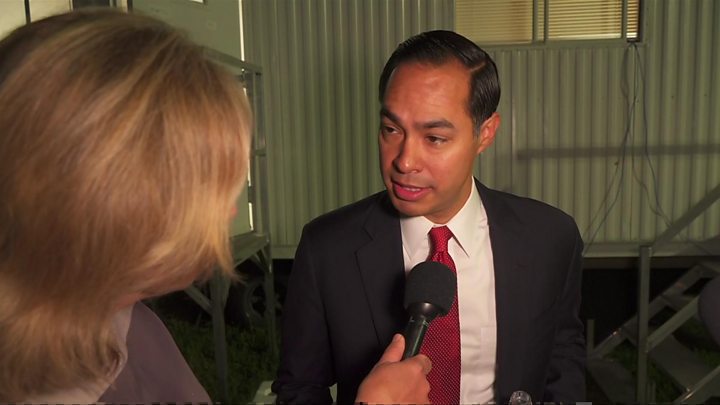 Mr Biden served as a senator for Delaware from 1973-2009 before becoming Mr Obama's running mate in the 2008 election.
The eventual Democrat nominee is expected to face President Trump, who is 73.
Who will take on Trump?
Choose your candidate and filter by category