I will do things differently as Prince of Wales, says William
https://www.theguardian.com/uk-news/2018/nov/08/prince-of-wales-william-charles-bbc-documentary
Prince Charles's template as Prince of Wales will not be adopted by his heir, the Duke of Cambridge, it has emerged.
Prince William, while admiring of his father's "work ethic" and "passions", intends to do things his own way when he inherits the title and accompanying income from the Duchy of Cornwall, according to a revealing BBC documentary.
Charles, who has sought to quell concerns he would be a "meddling" king, is praised in the documentary for his charitable endeavours during his many decades carving out a role.
Asked if he believed he had established a template for the future, Charles replied: "I doubt it, I mean, you know, my eldest son, William, may want to do to it differently, slightly. I mean the whole point is it has this flexibility about it."
William, setting out his own stall, said: "Personally, I want to be my own man, and take my own style, my own passions and my own interests, my way, and do things slightly differently.
"I think it is important that each generation does things a little bit differently than the previous," William told Prince, Son, Heir: Charles at 70, broadcast on BBC 1 at 9pm on Thursday 8 November.
Charles has attracted criticism for decades over his outspoken views and his private communications with government ministers on issues close to his heart, including the environment, GM crops, sustainable agriculture, organic farming, architecture and climate change. William has been vocal on issues including mental health and wildlife conservation.
In the film, Charles explained how he had developed the Prince of Wales role: "You have to make of it what you feel right. So, there's nothing laid down. That's what makes it so interesting, challenging, and of course, complicated."
He said in developing his role in the early years, he took advice from politicians including Conservative prime minster Sir Alec Douglas-Home when foreign secretary, and Labour prime minister Harold Wilson. Another Labour prime minister, Jim Callaghan, invited him to spend the day at No 10, and tour different ministries. "All these characters would encourage me to take an interest," Charles said.
"I was much encouraged to take an interest. I think people by now would have been rather fed up if I hadn't, I would have thought," he added.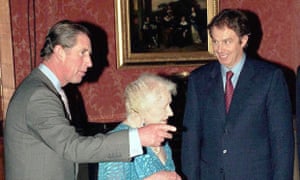 When it was suggested some people have accused him of meddling over the years, the prince chuckled and said: "Really? You don't say. But I always wonder what meddling is. I mean, I always thought it was motivating. But I've always been intrigued. If it's meddling to worry about the inner cities as I did 40 years ago and what was happening or not happening there, the conditions in which people were living. If that's meddling, I'm very proud of it."
Charles, who celebrates his 70th birthday on 14 November with a banquet at Buckingham Palace hosted by the Queen and attended by guests including European royalty, maintained he always strived to make sure whatever he did was non-party political.
On his future kingship, he said he was aware the roles of Prince of Wales and king were very different. "But the idea, somehow, that I'm going to go on in exactly the same way, if I have to succeed, is complete nonsense because the two situations are completely different."
Asked whether his public campaigning would continue, he said: "No, it won't. I'm not that stupid."
Asked if he could still, as king, "convene power" for good, he replied that that would be a matter for ministers.
Lord Hain, who welcomed his "regular interactions" with Charles when he was a cabinet minister, said of Charles's comments: "I don't think we expect the monarchy to be either stony-faced silent or to have no views."
"I've never been a monarchist, but if you believe in a monarchy, then I don't see why the monarch currently, or in the future, should be expected to be completely viewless and silent on everything," he told the Press Association.
Anti-monarchy campaigners Republic said: "Charles has routinely abused his position of power, privately lobbying cabinet ministers and influencing government policy with his own political agenda.
"It's unsurprising that the royals are rushing to change Charles's public image as he prepares to become king, but does he really expect us to believe he won't capitalise on all the powers he's about to inherit?"