Friday briefing: Brexit secretary discovers Channel trade route
https://www.theguardian.com/world/2018/nov/09/friday-briefing-brexit-secretary-discovers-channel-trade-route
Top story: Dominic Raab confesses Dover-Calais ignorance
Hello readers, I'm Warren Murray, let's get some news coursing through your brains.
Dominic Raab, the Brexit secretary, has made the stunning admission that he didn't realise how important the Dover-Calais crossing was to trade. Raab resorted to a more developed version of Trumpian "a lot of people didn't know" phraseology, saying "I think probably the average consumer might not be aware of the full extent" to which Britain depends on the Channel. As Rafael Behr puts it: "It is no longer surprising that people who were once confident that Britain had nothing to lose by leaving the EU neither understood what Brexit meant in practice, nor thought to ask."
A business leaders' group is calling for a second referendum, citing a YouGov poll that found 57% of UK firms want one. The arch-Brexiter Steve Baker has insisted he and other Tories like him will still vote down Theresa May's deal even if it handles the Irish border and the "backstop" satisfactorily. The PM hopes to get her ministers' backing for a draft withdrawal agreement at a special cabinet meeting that might take place as early as Monday.
---
Down and out on the high street – A net figure of 4,400 British shopfronts closed in the first six months of this year, figures reveal. Stores, pubs, restaurants, estate agents and other traders are being hit by a slowdown in spending and rising business rates, as well as people spending on holidays and experiences instead of mall outings, doing their shopping online, and dining and drinking at home. Some services have survived the shift, such as barber shops, beauty salons, health clubs, vaping stores and coffee shops. But overall the rapid increase in the number of empty shops has prompted fears about the future role of town centres. In Tamworth, delicatessen owner John Westwood blames parking charges and punishing business rates. "There's nothing to encourage [people to come here]. We're just a town now of banks, building societies and charity shops." Tom Ironside from the British Retail Consortium has called on the government to take action including addressing "spiralling business rates for the larger businesses that employ the majority of the UK's 3.1 million retail workers".
---
Thousand Oaks shooting – Twelve people have been killed in southern California by a gunman who opened fire in a crowded bar with a handgun and then shot himself dead. Officials identified the shooter as former US marine Ian Long, 28. The mass shooting took place at the Borderline Bar and Grill in Thousand Oaks. Among the victims was sheriff's deputy Ron Helus, who was fatally shot when he exchanged gunfire with Long inside the bar. On Thursday the streets outside a local hospital filled with local residents who waved American flags as Helus's body was transported to the coroner's office.
A vigil formed at the bar where many of the patrons on Wednesday night were students of nearby California Lutheran University. They included recent graduate Justin Meek, 23, who, the university said, died having "heroically saved lives in the incident".
---
Sanders accosts the truth – The White House has stood by its decision to revoke the access of CNN reporter Jim Acosta, as press secretary Sarah Sanders defended sharing a doctored video that made it look like Acosta had been physically aggressive towards an intern. Acosta pulled back on a microphone and said "Pardon me, ma'am" as a White House staffer tried to yank it away, as the actual video shows. Sanders has been condemned for sharing a version put out by a far-right conspiracy site. Matt Dornic, a CNN executive, tweeted at Sanders: "You released a doctored video – actual fake news. History will not be kind to you."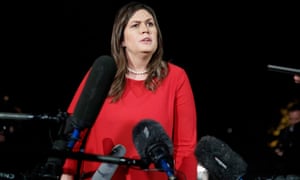 Simon Jenkins writes this morning that the Acosta-Trump clash underlines how the president will never be out-ranted. "The fact is, being rude to Trump hasn't worked … He is shameless, and still there."
---
Mueller still steadily digging – With the president having sacked Jeff Sessions and installed a stand-in who is hostile to the Trump-Russia investigation, we have a timely piece on the work special counsel Robert Mueller is doing to uncover any links from campaign to Kremlin. Better buckle in – it is dense reading in parts, but full of detail about dealings between the likes of Paul Manafort and a cast of Russian and Ukrainian oligarchs, consultants and intermediaries. A new name coming in for scrutiny is Konstantin Kilimnik, who worked with Manafort for Oleg Deripaska, an oligarch close to Vladimir Putin. Kilimnik and Manafort are charged with a conspiracy to cover up unregistered lobbying work in the US.
---
Fears of Polish hate march – Preparations for Sunday's centenary of the restoration of Polish independence are being overshadowed by the potential of a worsening of last year's ugly scenes. On Wednesday the mayor of Warsaw banned a march held each year by nationalists. But she was vetoed by Poland's rightwing President Andrzej Duda, who effectively said it would proceed on the authority of the Polish state. Last year's march attracted an estimated 60,000 people including rightwing activists from across Europe. It was condemned for displays of racist banners and slogans, and violence directed at counter-protesters. "Instead of being full of excitement and happiness, we are fearing for the safety of people in our capital," said Michał Szuldrzynski, a columnist with the centre-right paper Rzeczpospolita.
Today in Focus podcast: Arron Banks, the man who bankrolled Brexit
Carole Cadwalladr has been covering Brexit's biggest donor for over a year. As each revelation sparked a new investigation, Arron Banks has rubbished her journalism and sought to undermine her. But now those investigations are beginning to bite. Also today: Eva Wiseman on our obsession with true crime.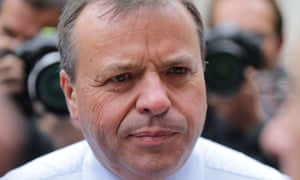 Lunchtime read: 'We live on this stroppy little island'
"This", says Damon Albarn, "is wrong. Jacob Rees-Mogg and people in Blackpool should never be together. Unless Jacob Rees-Mogg is prepared to go to Blackpool on a Saturday night and have a fucking great time." Albarn and his band The Good, the Bad & the Queen have been trying to figure out what's become of England since the EU referendum. The title track to their new album, Merrie Land, questions the strange alliance between working-class Brexit voters and privately educated Brexiteers: "You were the ones who work together / Put the money in the pockets / Of the few and their fortunes / Who crowd the school benches / And jeer at us all because they don't care about us / They are graceless and you shouldn't be with them."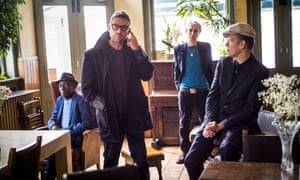 Merrie Land comes nearly 12 years after their self-titled debut. Like that record, this one was created by Albarn, former Clash bassist Paul Simonon, the trailblazing Nigerian drummer Tony Allen and guitarist/keyboard player Simon Tong, late of the Verve. Simonon describes Merrie Land as a work of "modern English folk music with a bit of rub-a-dub in it". "This time around, people can dance," says Allen, a youthful 78. "With the first record, people asked me: 'Tony Allen – what the fuck are you doing on this album? We don't hear you.' This time around, nobody's going to ask me that. They can hear me on every track." John Harris meets Albarn and bandmates in Maidstone. Merrie Land comes out on 16 November.
Sport
Eddie Jones has revealed Owen Farrell is not 100% fit for Saturday's long-awaited encounter with the All Blacks but says his co-captain will "put his body on the line" after urging England to rewrite history against New Zealand – a game "even bigger" than the Lions Tour, according to Steve Hansen. Keaton Jennings spoke about a rush of feelings after reaching his second Test century to put England in a commanding position with Sri Lanka to chase 462 to win the first Test in Galle.
A serious ankle injury sustained by Danny Welbeck cast a shadow over Arsenal's Europa League draw with Sporting, while Olivier Giroud broke his goal duck in Chelsea's win over Bate Borisov. Lewis Hamilton has expressed his concern over the expansion of the Formula One calendar after the announcement of a race in Vietnam in 2020. Organisers are hoping for a large global audience when the world's top two chess players, Magnus Carlsen and Fabiano Caruana, meet in London. And Ladbrokes' procedures for accepting and rejecting online bets have come under further scrutiny after it emerged the firm recently paid one of its customers in full for a bet the bookmaker initially insisted had been rejected – but only when the customer threatened to sue for his winnings.
Business
There's good news for motorists today as the price of oil looks set to fall in the weeks ahead thanks to rising supply and concerns about slower global growth. US crude prices slipped overnight and although a barrel of benchmark Brent crude increased slightly to $70.69, both have fallen 20% since peaking in October. Analysts expect further falls. Asian stocks have been broadly down and the FTSE100 is down 0.26% at the open. The pound is at $1.305 and €1.15.
The papers
The Guardian's splash today is "Decline of the high street gathers pace as thousands of stores close". The front page also features a picture of CNN's Jim Acosta, the White House intern and the microphone.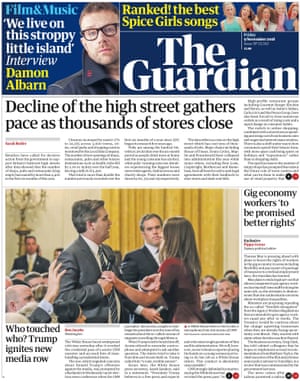 Brexit stories abound. There is one on the front page of the Times: "No-deal plan 'will include new border in Irish Sea'", the Telegraph: "EU demands right to fish after Brexit", and the i: "PM facing Cabinet rebellion as she finalises Brexit deal". The FT's splash is "KPMG acts on 'conflicts of interest' with first curb on consulting work", the Express says: "Diabetes drugs bill soars to £1bn a year", and the Mirror reports that Simon Cowell has bough Philip Green out of his Syco shares: "Cowell pays out £10m to dump Sir Philip" but the "Sir" is crossed out. The Sun has news of unhappiness on Strictly Come Dancing: "Strictly Danny in 'Bully' bust up". The Mail damns "Yet another flu jab fiasco" with "thousands of over-65s unable to get jabs" – its picture is Prince Charles with grandson Louis under the headline "Welcome to The Firm".
Sign up
The Guardian Morning Briefing is delivered to thousands of inboxes bright and early every weekday. If you are not already receiving it by email, you can sign up here.
For more news: www.theguardian.com