CMA Awards start with Thousand Oak shooting victims tribute as Carrie Underwood, Brad Paisley return as hosts
https://www.foxnews.com/entertainment/cma-awards-start-with-thousand-oak-shooting-victims-tribute-as-carrie-underwood-brad-paisley-return-as-hosts
While most award shows are full of politically charged opening monologues and acceptance speeches, the CMA Awards made a conscious effort to avoid political banter during country music's biggest night in which Keith Urban won top honor as Entertainer of the Year.
Unlike other star-studded events, CMA co-hosts Brad Paisley and Carrie Underwood vowed the show wouldn't be filled with political satire — and the country superstars kept their word. As the biggest names in the genre took the stage during Wednesday night's show at Nashville's Bridgestone Arena, politics was not a topic of discussion.
Instead, the CMAs began on a somber note with Garth Brooks leading a moment of silence for the 12 people who were killed at a Southern California country bar last week.
"Tonight let's celebrate their lives. Let the music unite us with love," Brooks said.
After the names of the victims flashed across the screen, Luke Bryan kicked off the night with a performance of "What Makes You Country," where he was joined by several of his fellow country singers.
"Let's be proud of what makes us country tonight!" Bryan said to a cheering crowd.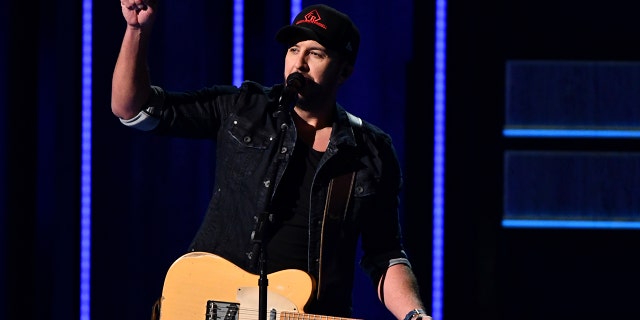 Despite avoiding controversial topics, Underwood and Paisley still delivered a joke-filled opening monologue that left many in the audience in stitches.
"Bradley Cooper and Lady Gaga made a movie, and it's sure to win a lot of big awards," the hosts crooned. "Country music's biggest night is here in Nashville."
Paisley then belted out, "Uh oh, Carrie, look! A star is bored."
Underwood then revealed the sex of her baby, saying it will be a "Willie" after Paisley repeatedly asked her about baby names.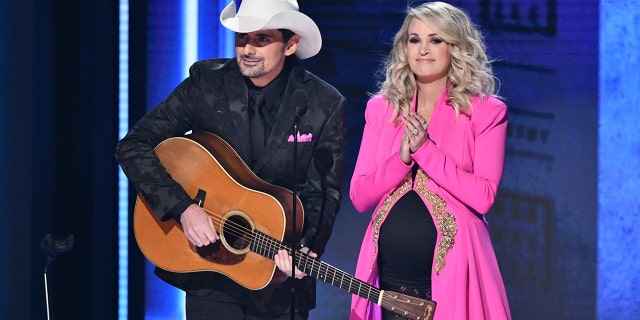 Fans took notice of Underwood and Paisley's efforts to keep the show clear of politics — unlike the Oscars, Golden Globes, Emmy Awards and several other Hollywood award shows where political overtones have become par for the course.
Underwood kept the positive and uplifting theme going when she gave a rousing performance of her song "Love Wins." It features the lyrics, "I believe you and me are sisters and brothers/And I believe we're made to be here for each other."
Chris Stapleton was the first artist to win an award during the show, taking home Song of the Year for "Broken Halos" and later for Single of the Year for the same song. He also won Male Vocalist of the Year.
"I didn't expect this one, man, thank you so many great songs in the category," Stapleton said as he accepted his first award of the night. He later said he was "thinking about the people in California right now" and he wants to "dedicate this award to them."
But it was Urban who walked away with the night's biggest award as Entertainer of the Year as his wife Nicole Kidman was there to support him.
"God, I thank you so much for the blessing of this," a tearful Urban said. "I wish my dad was alive to see this, but I think he's watching over me tonight… God bless country music. God bless you all."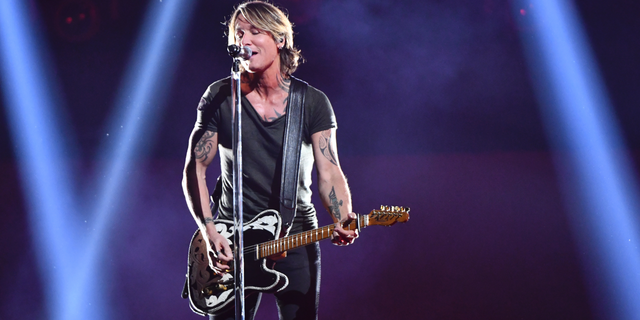 Earlier in the night, Luke Combs took home the award for New Artist saying, "God, I love country music man. Thank you, guys."
Another emotional moment came when Kacey Musgraves won Album of the Year. "This is really, really crazy timing because I just realized this morning — it sounds like a lie — 10 years ago today I moved to Nashville," she said. "I'm so proud of [my album] and it's inspired by this beautiful universe, all of you and most of all love."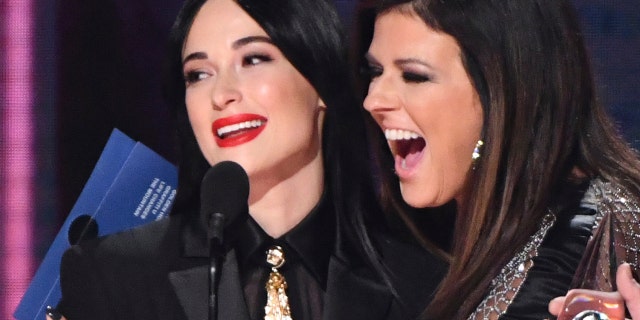 Dan + Shay, who lost in all four categories they were nominated in, gave an impressive performance of their hit "Tequila." When Brothers Osborne won Vocal Duo of the Year, John Osborne said, "I thought this was going to go to Dan + Shay. Make some noise for those boys."
"I don't know why we keep winning this," John Osborne said when he first walked onstage.
"If this was in Florida there definitely would be a recount," added T.J. Osborne, in the only political moment of the evening, which earned laughs from the audience.
Garth Brooks performed a touching new song dedicated to his wife, Trisha Yearwood, who was teary-eyed and was hearing the song for the first time.
In addition to the various performances, Midland took the stage to pay tribute to the late Burt Reynolds who died in September at age 82. The group performed a cover of the "Smokey and the Bandit" theme song, Jerry Reed's "East Bound and Down."
Underwood took a break from hosting when she won Female Vocalist of the Year and broke down in tears while accepting the award.
"Thank you, God! I have been blessed with so much in my life," she said through tears. "Thank you, God, thank you, family, thank you country music, thank you country music family…this means so much thank you."
The Associated Press contributed to this report.