California wildfires: nine killed as blaze incinerates town
https://www.theguardian.com/world/2018/nov/09/california-fires-malibu-evacuations-latest-news-updates-today
At least nine people have died after a northern California wildfire incinerated most of a town of about 30,000 people, authorities said.
Only a day after the fast-moving fire began, the blaze near the town of Paradise had grown to nearly 140 sq miles and had destroyed about 6,500 structures. Three bodies were found outside their homes, one inside a home and several in cars, said the Butte county sheriff, Kory Honea. He said the number was likely to grow.
"There was really no firefight involved," Capt Scott McLean of the California department of forestry and fire Protection said, explaining that crews gave up attacking the flames and instead helped people get out alive. "These firefighters were in the rescue mode all day yesterday."
With fires also burning in southern California , state officials put the total number of people forced from their homes at 157,000. Evacuation orders included the entire city of Malibu, which is home to 13,000, among them some of Hollywood's biggest stars.
Meanwhile, Thousand Oaks, reeling from the tragedy of a mass shooting, was under a siege of a different sort Friday as raging wildfires on both sides of the city forced evacuations and shut down part of the main freeway through town. Three-quarters of the town was evacuated, the mayor said.
Southern California wildfires had burned 150 homes and that number would rise, authorities said Friday afternoon. The Hill fire had burned 6,000 acres and wasn't advancing, but the Woolsey fire a few miles away had doubled in size to 35,000 acres.

Winds that drove the flames through hills and canyons north and west of downtown Los Angeles are expected to die down on Saturday. But forecasters expect them to build up again Sunday, reaching 35 mph (56kmh) or higher.
Donald Trump has issued an emergency declaration providing aid to help state and local firefighters battling blazes in Butte, Ventura and Los Angeles counties. The money will help pay for firefighting aircraft along with shelter, supplies and transportation for the tens of thousands of evacuated residents.
The cause of the blazes was not known. Pacific Gas & Electric Co says it experienced a problem on an electrical transmission line near the site of the northern California fire minutes before the blaze broke out.
In northern California, when Paradise was evacuated, the order set off a desperate exodus in which many motorists got stuck in gridlocked traffic and abandoned their vehicles to flee on foot. People reported seeing much of the community go up in flames, including homes, supermarkets, businesses, restaurants, schools and a retirement center. Paradise is about 180 miles north-east of San Francisco.
Rural areas fared little better. Many homes have propane tanks that were exploding amid the flames. "They were going off like bombs," said Karen Auday, who escaped to a nearby town.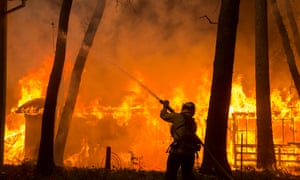 McLean said: "Pretty much the community of Paradise is destroyed. It's that kind of devastation."
The massive blaze spread north Friday, prompting officials to order the evacuation of Stirling City and Inskip, two communities north of Paradise along the Sierra Nevada foothills.
The wind-driven flames also spread to the west and reached Chico, a city of 90,000 people. Firefighters were able to stop the fire at the edge of the city, Cal Fire Capt Bill Murphy said.
There were no signs of life Friday on the road to Paradise except for the occasional bird chirp. A thick, yellow haze from the fire hung in the air and gave the appearance of twilight in the middle of the day.
Evacuees from Paradise sat in stunned silence Friday outside a Chico church where they took refuge the night before. They all had harrowing tales of a slow-motion escape from a fire so close they could feel the heat inside their vehicles as they sat stuck in a terrifying traffic jam.
When the order came to evacuate, it was like the entire town of 27,000 residents decided to leave at once, they said. Fire surrounded the evacuation route, and drivers panicked. Some crashed and others left their vehicles by the roadside.
"It was just a wall of fire on each side of us, and we could hardly see the road in front of us," police officer Mark Bass said.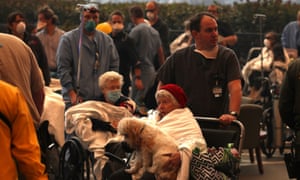 A nurse called Rita Miller on Thursday morning, telling her she had to get her disabled mother, who lives a few blocks away, and flee Paradise immediately. Miller jumped in her boyfriend's rickety pickup truck, which was low on gas and equipped with a bad transmission. She instantly found herself stuck in gridlock.
"I was frantic," she said. After an hour of no movement, she abandoned the truck and decided to try her luck on foot. While walking, a stranger in the traffic jam rolled down her window and asked Miller if she needed help. Miller at first scoffed at the notion of getting back in a vehicle. Then she reconsidered, thinking: "I'm really scared. This is terrifying. I can't breathe. I can't see, and maybe I should humble myself and get in this woman's car."
Concerned friends and family posted anxious messages on Twitter and other sites, saying they were looking for loved ones, particularly seniors who lived at retirement homes or alone.
About 20 of the same deputies who were helping to find and rescue people lost their own homes, Honea said.
"There are times when you have such rapid-moving fires … no amount of planning is going to result in a perfect scenario, and that's what we had to deal with here," Honea told the Action News Network.
Patrick Knuthson, a fourth-generation resident of Paradise, said only two of roughly 22 houses on his street survived.
Kelly Lee called shelters looking for her husband's 93-year-old grandmother, Dorothy Herrera, who was last heard from Thursday morning. Herrera, who lives in Paradise with her 88-year-old husband, Lou, left a frantic voicemail around 9.30am saying they needed to get out.
"We never heard from them again," Lee said. "We're worried sick. … They do have a car, but they both are older and can be confused at times."
In Thousand Oaks, flames creeping down a hillside were visible from the teen center on Janns Road named for the family that originally developed the hilly terrain covered with majestic California oaks into what has become a bedroom community of 130,000.
Evacuees described harrowing escapes from flames that picked up unexpectedly Thursday afternoon.
At the Vallecito mobile home park for seniors, the fire came so quickly that residents had no time to gather medications and documents. With flames bearing down, firefighters carried people from homes and put them in empty seats of their neighbors' cars, said Carol Napoli, 74.
Napoli left with her friend, the friend's son and her mother who is in her 90s and had to leave behind her oxygen tank.
"We drove through flames to get out. They had us in like a caravan," Napoli said. "My girlfriend was driving. She said, 'I don't know if I can do this.' Her son said, 'Mom, you have to."
Dani Anguiano contributed reporting