California wildfires: Camp fire becomes states deadliest with 42 people killed
https://www.theguardian.com/us-news/2018/nov/12/california-wildfire-latest-camp-woolsey-fires-refugees
The Camp fire in northern California has killed 42 people, making it the deadliest in state history, authorities said.
The blaze is also the most destructive the state has ever seen, incinerating the town of Paradise and displacing more than 50,000 people as other blazes continued to rage farther south.
A total of 7,177 buildings have been destroyed, Cal Fire said. The fire grew to 183 sq miles Monday, and containment was up to 30%.
Two people have also died in the Woolsey fire, a major blaze around Los Angeles.
On Monday officials said the Woolsey fire had burned 91,572 acres and was 20% contained. "We are working all day and all night to increase and reinforce that containment," said the Los Angeles county fire chief, Daryl Osby. The fire had destroyed 370 structures, with 57,000 still at risk, Osby said.
Donald Trump said late on Monday he had approved an "expedited" major disaster declaration for California over the deadly wildfires burning at both ends of the state.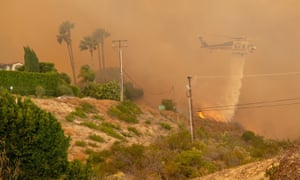 Trump tweeted Monday night that he "wanted to respond quickly in order to alleviate some of the incredible suffering going on".
The Democratic governor, Jerry Brown, had requested the declaration, which would make victims eligible for crisis counseling, housing and unemployment help, and legal aid.
Trump previously blamed "poor" forest management for the fires. Brown says federal and state governments must do more forest management but says climate change is the greater source of the problem.
On Sunday evening, some neighborhoods allowed evacuees back in and the US 101 highway west of LA was reopened. But Osby emphasized that residents in areas near the fire's path should evacuate early and be on high alert, as many residents insisted on sheltering in place on Sunday.
Statewide, 150,000 people have been displaced and more than 8,000 fire crews are deployed. Authorities have said 228 people are unaccounted for.
High winds and dry conditions threaten more areas through the rest of the week, fire officials warned. San Diego is under severe weather watch starting early this week, Osby said.
Around Paradise, about 1,300 people have found refuge at evacuation shelters, according to a Cal Fire spokesman, Steve Kaufman, a total which includes several shelters in Butte county and some in Sutter, Glenn and Plumas counties. But that's only a fraction of the total displaced from Paradise, Magalia, Concow and other towns in the Sierra foothills.
Many converged on Chico, a city of about 90,000 just 20 minutes from Paradise. Hotels in Chico are at capacity with fire evacuees and some, but not all, shelters are full. Others stayed with friends and family or even in their cars, eager to remain close enough to return home at a moment's notice, even though that could be months away.
Authorities recovered the remains of an additional 13 people in northern California on Monday. To date, three people have been identified: Ernest Foss of Paradise, 65, Jesus Hernandez of Concow, 48, and Carl Wiley of Magalia, 77. The sheriff's department plans to bring in cadaver dogs, portable morgue units and 150 search and rescue professionals to aid with the recovery of human remains.
"This is an unprecedented event," the Butte County sheriff, Kory Honea, said. "I want to recover as many remains as we can as soon as re possibly can because I understand the toll it takes on people not knowing what became of their loved ones."
A Walmart in Chico has become an unofficial refugee camp for those displaced by the blaze. On Sunday, more than a dozen tents lined an empty field next to the store, while the parking lot was filled day and night with trailers and cars stuffed with belongings – toys, pillows and family photos.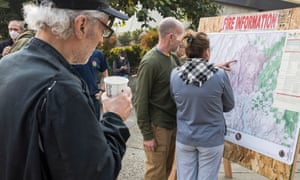 Though without some of the comforts of a traditional shelter, the fire refugees in the parking lot were not forgotten. Local food truck owners were there to provide free food and church groups from around the state cooked and distributed meals. Chico residents provided clothes, toys and gear, free of charge.
Evacuees said they couldn't find space at a nearby shelter, didn't want to part from their animals or didn't feel comfortable at a shelter.
At this unofficial evacuation center, tales of generosity by those most affected emerged. Tammy Mezera and her friend Daryl Merritt spent three nights sleeping in a tent outside the store after the fire forced them to run for their lives. When they found out a neighbor, Matthew Flanagan, had slept under a taco truck, they gave him the extra space in their tent.
"It's like an instant family," Mezera said, petting her dog. "We're all taking care of each other."
The three made friends with strangers like Andrew Duran, who sleeps just outside their tent in a sleeping bag. And despite the darkness and loss, they showed endless generosity toward one another. Eating breakfast together on Sunday morning, they shared a few laughs, dancing to Bill Withers' Lean on Me.
It's the kind of coming together the community will need, Mezera said, after more than 6,400 homes were lost.
Meanwhile, as firefighters and law enforcement seek to protect the town and its citizens from the deadly blaze, they faced the loss of their own homes. The fire destroyed the homes of 17 Paradise police officers, Chief Eric Reinbold said. None of the officers missed a day of work since the fire began, he added.
At least 38 firefighters battling the blaze lost their homes, said Tim Aboudara, the International Association of Fire Fighters state service representative. That number was expected to grow.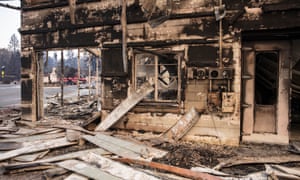 The association was working with the CDF Firefighters Benevolent Foundation and the California Professional Firefighters and to assist those firefighters and their families. Several had already been placed into temporary housing, Aboudara said.
Along with the loss of their own homes, many firefighters are devastated they were unable to stop the rapid spread of the fire before it overtook the town of Paradise, Aboudara said.
"Our job is to put the fire out and we couldn't stop that," Aboudara said. "There was nothing we could do."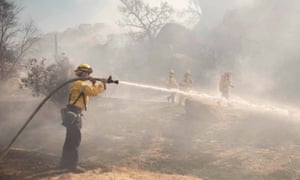 No long-term plans to house evacuees, who may not be allowed to return home for months, have been announced, but Congressman Doug LaMalfa said on Sunday he expects a federal disaster declaration from the White House within the coming days, the subject of appeals by the governor, Jerry Brown.
"This is truly a tragedy that all Californians can understand and respond to," Brown told reporters on Sunday. "It's a time to pull together and work through these tragedies."
Once federal aid is approved, Federal Emergency Management Agency (Fema) will come to the area to begin working with local residents and business owners on recovery.