Brexit talks in the endgame, says May
http://www.bbc.co.uk/news/uk-politics-46188790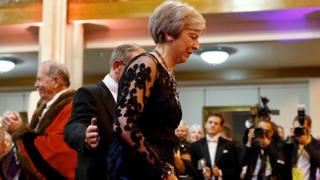 Negotiations over the UK's departure from the EU are "now in the endgame", Theresa May has said.
Addressing the Lord Mayor's Banquet in the City of London, the prime minister said talks were "immensely difficult", but the sides would work "through the night" to make progress.
Mrs May will address her cabinet on Tuesday, with some ministers believed to want a change of plan.
The main sticking point is how to keep trade flowing at the Irish border.
BBC political editor Laura Kuenssberg said there was "huge frustration" in parts of the Conservative party and the cabinet about the PM's approach.
On Monday night, some cabinet ministers met for drinks in International Trade Secretary Liam Fox's office to discuss Brexit, including no-deal plans and the Irish "backstop" – a fallback arrangement to guarantee no new visible border checks.
Unease over the backstop centres on how it will work.
The prime minister is under pressure from both Brexiteers and pro-EU MPs as she tries to seal a deal with the EU on the terms for the UK's exit on 29 March 2019.
Both sides want to schedule a special summit of EU leaders at the end of November to sign off the withdrawal deal, but time is running out.
Brussels says it will only agree to put the wheels in motion for the summit if agreement can be reached on the issue of the Irish border.
If a deal can be reached with the EU in time, Mrs May will then need to persuade her party – and the rest of Parliament – to support it in a key Commons vote.
---
Delay or decision?
BBC political editor Laura Kuenssberg
Why does Number 10 believe there could suddenly be a better answer to the same set of problems? As one former minister said, "two plus two is not suddenly going to equal five".
And at the top table there seems to be growing appetite for a change of approach. Three different members of the cabinet have told the BBC that the PM has to ditch her plan. Carrying on like this, they suggest, is simply banging their collective heads against the same brick wall, because it will never get through Parliament.
Some of them are even suggesting that the prime minister should consider walking away from the talks. One of them told me: "The raw truth is there is a gap between what we can accept and what the EU is offering.
"She needs to change the dynamic and only the prime minister can do that. That might mean walking away, or saying this is our best and final offer."
Another said: "She needs to say that there won't be a deal in order for them to move – she needs to play hardball."
---
Several Tory MPs are unhappy at the expected shape of the deal and have warned it will not get through Parliament.
As well as Leave-supporting Conservative MPs who are worried about the UK being tied to EU rules, some pro-EU Tories also have misgivings.
Mrs May's preferred plan for future relations with the EU after Brexit were agreed at Chequers – the prime minister's country retreat – in July, in a marathon cabinet meeting lasting nearly 12 hours.
Former Brexit secretary David Davis and ex-foreign secretary Boris Johnson resigned from the cabinet in protest at the plans 48 hours later.
On Friday, Transport Minister Jo Johnson resigned, saying what was on offer fell "spectacularly short" of what had been promised and calling for another referendum.
'Get on with Brexit'
In her speech on Monday evening, Mrs May said: "The negotiations for our departure are now in the endgame.
"And we are working extremely hard, through the night, to make progress on the remaining issues in the withdrawal agreement, which are significant.
"Both sides want to reach an agreement. But what we are negotiating is immensely difficult.
"I do not shy away from that."
Mrs May said that "overwhelmingly" British people want the government to "get on with delivering Brexit".
"I want them to know that I will not compromise on what people voted for in the referendum," she said.
"This will not be an agreement at any cost."
Jesse Norman has been promoted to replace Jo Johnson in the Department for Transport, Downing Street has said.
Mr Norman was previously a junior minister in the department.