Botched Israeli raid in Gaza sparks violent exchanges
https://www.theguardian.com/world/2018/nov/12/violence-after-botched-israeli-raid-in-gaza
Palestinian militants in Gaza have launched dozens of rocket attacks and Israeli fighter jets have bombed sites across the strip in a round of intense fighting triggered by a botched Israeli special forces raid that left eight people dead.
At least 200 rockets and mortar bombs were fired from the coastal enclave on Monday, lighting up the sky with missile trails, and Israeli police shared photos of a damaged building and a fire in the southern city of Sderot.
Israeli media reported that one mortar bomb hit a bus, severely wounding a 19-year-old man. The national rescue service said at least seven people were wounded by the strikes. Palestinian officials said at least three people, including two militants, were killed by Israeli attacks, which including tank fire, and nine were wounded.
Gaza's rulers Hamas and the smaller group Islamic Jihad claimed responsibility for the rocket barrage. The flare-up was in response to an Israeli operation late on Sunday that appears to have gone awry, in which soldiers killed seven Hamas militants and lost a lieutenant colonel in an ensuing firefight.
An Islamic Jihad spokesman, Daoud Shehab, said the groups had decided to retaliate "so the occupation and its supporters know that the lives of our sons come with a price".
The day of violence, beginning with the first known Israeli ground incursion in Gaza since the last war in 2014, threatens to destroy an unofficial ceasefire that both sides have said is needed to prevent another war.
The Hamas leader, Ismail Haniyeh, led a funeral on Monday as masked gunmen in uniforms carried coffins and mourners chanted "revenge".
Israel's prime minister, Benjamin Netanyahu, cut short a visit to Paris, where he had been attending first world war commemorations.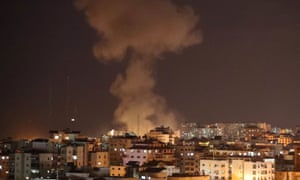 Hamas's armed wing, the Ezzedine al-Qassam Brigades, released a statement after the raid claiming Israeli forces "infiltrated this evening in a civilian car" and opened fire on a group of its armed men near the city of Khan Younis, killing one of its commanders, Nour Baraka.
Its fighters gave chase as the vehicle sped away, it said. During the pursuit, Israeli aircraft "carried out bombardments to cover the withdrawal of this force", it said.
Israel had largely abandoned its tactic of targeting senior Hamas officials in recent years. Its military said in a short statement: "During an IDF [Israel Defence Forces] Special Forces operational activity in the Gaza Strip, an exchange of fire evolved."
The IDF said later that the operation "was not intended to kill or abduct terrorists but to strengthen Israeli security", without specifying how.
Israeli media reported that the operation had been to gather intelligence. The public radio station Kan reported that IDF special forces had their cover blown as a result of a technical malfunction and became pinned down.
Residents in the area where the fighting took place said the car being driven by the soldiers, some of whom were dressed as women, was stopped by Baraka, who asked for identification. The soldiers shot him with a silenced gun before speeding to an olive grove, where they were extricated by helicopter.
Hamas militants in pursuit were bombed by air, residents said, and Israeli aircraft destroyed the car used by its forces after they had left.
Last week Israel, which blockades Gaza, allowed shipments of fuel into the strip to supply electricity plants and reduce crippling power cuts. It also permitted Qatar to deliver $15m (£12m) in aid as backpay for thousands of unpaid civil servants.
Violence has flared frequently on the frontier since Palestinians began weekly protests in March. Israel responded to the movement with lethal fire, killing about 170 demonstrators and injuring thousands more.
Bloodshed has continued for seven months, with Hamas and Israel fighting an on-off war of airstrikes and rockets. Egypt, Qatar and the United Nations have been working to broker a long-term ceasefire.
Netanyahu's cabinet, dominated by hawkish politicians from rival factions, has been bitterly divided on what policy to implement in Gaza, even as Israeli military commanders have warned against escalations.
The Associated Press contributed to this report.