Beyond the cenotaph: communities prepare for armistice centenary
https://www.theguardian.com/world/2018/nov/10/beyond-the-cenotaph-communities-prepare-for-armistice-centenary
Shortly before 7pm on Sunday, Geoffrey Priest will make his way to a point close to the top of Saxa Vord, a hill near the northernmost tip of the Shetland island of Unst, armed with some kindling, a small amount of paraffin and a blowtorch.
"It's a pretty wild place in the winter time," says Priest, and a force five wind is predicted for Sunday. But as a joiner who "can put my hand to most things", he is confident he will be able to light the beacon that will be the centrepiece of the island's commemoration of the centenary of the armistice.
It's an important thing to do, says Priest, "because there were so many folk that fought in the war from Unst, and quite a few who lost their lives here." In total, 600 Shetland men lost their lives in the first world war, a higher proportion than anywhere else in Britain.
The Unst beacon may be Britain's most northerly tribute to the dead of the Great War, but it will be just one of many thousands of acts of commemoration taking place across the UK – and much further afield – to mark the centenary on Sunday. The Queen, Theresa May and the German president, Frank-Walter Steinmeier, will mark the event at the Cenotaph in London on Sunday, and more than 70 world leaders will gather at the Arc de Triomphe in Paris, but for many, the most moving ceremonies of remembrance will be small and local, reflecting the terrible loss experienced by so many communities around the world.
It is impossible to know how many events will be taking place on Sunday. In Britain alone, the government-backed site Armistice 100 has recorded more than 2,600 ceremonies – bell-ringings, church services, parades, exhibitions – in communities scattered across the map, but these are likely to be only a fraction of those planned.
An initiative called Battle's Over lists more than 1,000 commemorative beacons and a similar number of churches and cathedrals ringing bells, while more than 2,000 individual pipers will play tributes in locations including Denmark, Canada, Australia, Somaliland and Iran.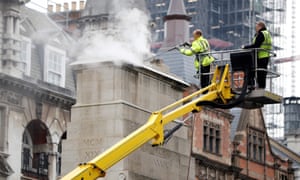 The War Memorials Trust estimates that there are more than 100,000 memorials in the UK, and expects the majority of them to be the focus of an act of remembrance this weekend, a spokeswoman said.
In Jersey, the torch used to light the beacon at the St Ouen headland will be carried from St Helier by 14 motorbike riders in a "solemn and respectful" tribute. Players at the women's international football match between England and Sweden in Rotherham on Sunday afternoon will wear black armbands and poppies and stand in tribute while wreaths are laid in the centre circle before kickoff.
The pastor of a church in Olean, New York state, marked the announcement of the armistice in 1918 by dashing from his house and ringing his church bell 100 times; the town will mark the centenary by repeating the feat on Sunday. New Zealand will mark the moments after its commemorative silence with a national "roaring chorus" – a jubilant cacophony of bells, sirens and car horns in echo of the spontaneous outburst that accompanied the news of the end of war a century ago.
In Beeston Regis, a village near Sheringham in Norfolk, the parish council has printed and distributed a booklet about the village's wartime connections, ahead of services, a beacon lighting and a tea dance at a school on Sunday evening.
The village had signed up to take part in the commemorations, "but to be honest with you that was just Last Post, light a beacon, ring the church bell," says Roy Beckley, the council's vice-chair. "I just said, 'I don't think we're going to get many people out by our village sign or wherever on a dark night in November. We'll need something to attract them. So we'll have a tea party.'"
With a population of only 1,700, they are expecting 170 at the party, including families and people of all ages. The fare, says Beckley, "will be very simple and based on 1914 stuff. I suspect there will be egg sandwiches, tomato sandwiches. We don't want anything that wouldn't have been around – samosas and chicken legs and all that stuff.
"But we think we have not done a bad job on this commemorative thing. For a little parish, we try to do things properly."
A similar spirit has inspired the residents of Burton-in-Lonsdale, Cumbria, which lost 20 men in the war and where local organiser Mike Biles estimates 70 of the 600 villagers have been directly involved in planning its commemorations. As well as film screenings, an exhibition and a "heritage" football match, Sunday's commemorative events will be followed by a "trench stew" supper and wartime singalong at the pub.
People felt it was important that the commemorations weren't merely solemn, Biles says. "There has to be some hope coming out of it – it can't all be doom and gloom and Wilfred Owen. I can imagine that the guys that didn't make it back would like to think there was some purpose, and it wasn't all bad."